Details
At Gomolka Design Studio We Live, Eat, and Breathe Glass!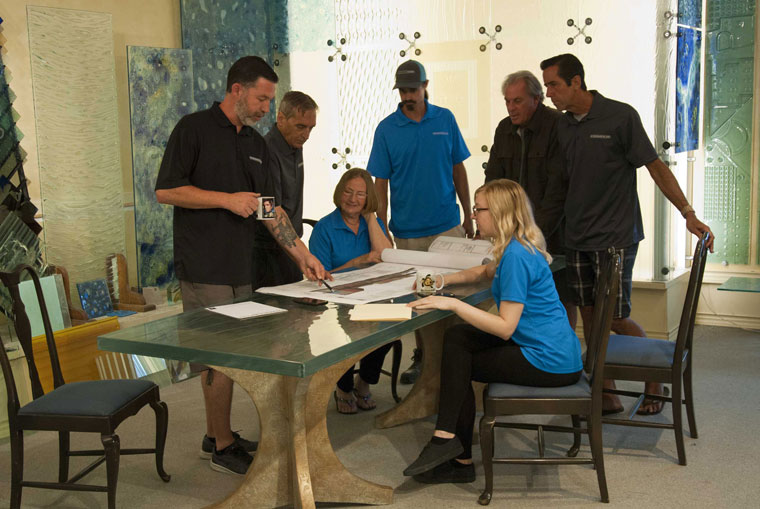 "Stunning."
"Elegant."
"Art glass that is sure to embellish any setting."
These are just a few of the things being said about the one-of-a-kind pieces produced here at Experience Glass. We are a European taught art glass design studio and fabricator located in the heart of Carlsbad, on the beautiful coast of north county San Diego, California. And while we don't literally eat or breathe glass, it is still our passion!
Experience Glass opened our doors in 1983, and though we specialize in cast/slumped glass, we have a wealth of experience in many other methods and techniques. Our glass has multiple applications from countertops to showers and wall dividers to stairwells, and can be installed in residential as well as commercial settings.
Need direction? Experience Glass will work with your thoughts and ideas to design a project of any type from contemporary to traditional. The combination of your inspiration and our "know-how" results in endless possibilities!
Above all, customer service has been the hallmark of Gomolka studio for its entire existence. Our experienced and knowledgeable sales associates are 100% committed to your project, and we hold ourselves responsible from concept to delivery. We often collaborate on custom jobs with architects, designers, and glass artists such as Jay Curtis of Art Glass and Metal.
We fully recognize that no customer owes us his or her business and we look at each project as a new opportunity to justify your confidence in not only our quality, but our services as well. There is no job that is too small or too large. From "one-offs" to multiple production runs, we are here to accommodate your needs.
A quick look at our product line will give you a good idea of our experience and dedication to our craft.
Thanks for visiting!
The Gomolka Design Team