Why Glass?
Over the years our company has produced thousands of unique solid glass countertops for kitchens, bar tops, bathroom sink surrounds and glass top kitchen islands, often incorporating ColorFuse glass for a seemingly infinite variety of colors, patterns, shapes, and textures. We view every new project as an opportunity to create something distinctive and exciting.
If you are looking for something truly unique for your home or office, the beauty and functionality of a custom made thermoformed glass countertop is guaranteed to offer many advantages over other common countertop materials. Our in-house factory gives us the ability to fully customize the final product to suit your requirements and your tastes, making our glass countertops a truly unique and particularly attractive choice.
To carry out our mission of producing eye catching, one-of-a-kind products built to your specs, our in house design team often collaborates with kitchen designers, interior designers, and architects to produce a final product that is guaranteed to exceed your expectations.
So Just What is "Thick" Glass?
Historically the most common architectural use for glass has been for plain residential or commercial windows, in which case the thickness rarely exceeds 3/8", except for the very largest picture windows. More recently, all glass over 1" thick that is custom made for tabletops, kitchen countertops, kitchen islands, bathroom countertops and sink surrounds, bar tops, flooring, stair treads, etc., has come to be known as "thick glass".

What Surfaces Can I Use Glass For?
Our kiln fired glass products can incorporate various combinations of cast slump glass, etched (sandblasted) glass, ColorFuse™ technology, PermaCoat, MetalliCoat, and LED backlighting for a unique and durable finish, delivering strength and easy cleanup properties in a wide variety of applications such as:
Thick glass kitchen countertops, with or without matching backsplash
Backlit kitchen countertops using LED lights
Colored glass kitchen islands with ColorFuse™, PermaCoat, or MetalliCoat finish
Glass topped kitchen serving counters to brighten up your kitchen
Commercial bar tops with lit glass and your choice of backlighting
Thick glass bathroom countertops, with or without matching backsplash
Colored glass bathroom sink surrounds with ColorFuse™, PermaCoat, or MetalliCoat finish
Glass topped bathroom makeup counters for all her little necessities
Glass topped outdoor barbeque islands to accentuate your existing decor
Glass topped bars for deck or poolside are eye catching and easy to clean
What Are Some of the Styles Can You Create?
Some of our most popular themes and styles include:
"Ice glass", with a glacial polish to simulate the look of a glacier or frozen lake
Frosted glass with a slightly opaque look in a variety of colors
Ornate glass with scrollwork, hieroglyph patterns, or other traditional old world styles
Mid century modern designs with simple, clean lines
Brash ultra-modern looks with bright colors and/or patterns
Our custom countertops can create an aquatic or nautical effect or accentuate an existing one, which makes it a fantastic choice for poolside, patio, or deck use. Countertops made of solid glass can also help transform an ordinary urban setting into a virtual natural wonderland. For commercial use, many seafood and sushi restaurants have hired us to help create such a setting.
If you prefer an ultra-sleek modern look, we are experts at that too. Pretty much any angle, curve, or contour is possible as long as the dimensions are within our maximum specs. Looking to create a space age James Bond atmosphere? We can do that!

What Are Some Advantages of Solid Glass Kitchen Countertops and Islands?
Back in the day the standard for kitchen countertop surfaces was tile and grout. If you've ever tried to keep this type of countertop clean, you know how labor intensive it can be, not to mention how all the cracks and crevices harbor all kinds of cruddy bacteria and gunk.
Then in the post-war era Formica™ and similar plastic compounds came into vogue. While easier to clean than tile, the material is not as durable as solid glass, and nor does it offer the amazing translucent effects of glass.
Granite, marble, and stone have always had great appeal, but as explained elsewhere on this page, they do not share the inherent strength of solid, thick glass, not to mention the amazing translucent qualities that only pure glass can deliver.
Can I Place Hot Cookware Directly on a Glass Countertop?
Although we do recommend using hotplates for safety, hot cookware can generally be placed directly on its surface. A little common sense goes a long way!
Cutting on Glass Surfaces
Cutting directly on a glass surface is not recommended - we suggest using hardwood cutting boards to save and maintain longevity of your cutlery. But for overall cleanliness, glass is actually a much more sanitary surface than most countertop surfaces, not to mention cheap porous wood or plastic cutting boards!
Why Should I Choose Glass Bathroom Countertops?
Because they are typically damp environments, bathrooms offer unique challenges to designers if ease of maintenance is to be balanced with good looks. And in many bathrooms, countertop space often becomes prime real estate for all sorts of personal care products and gadgets. When this is the case, the last thing you need are countertops that are difficult to clean and maintain.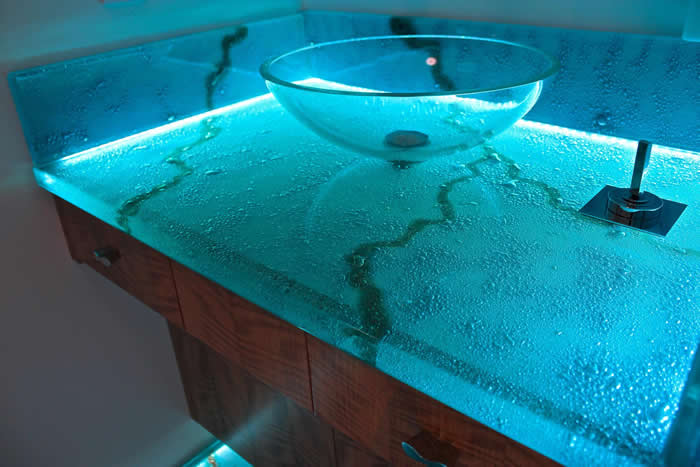 Fortunately, a countertop made of solid glass not only looks spectactular, it makes keeping things clean and tidy a breeze, no matter how much use it gets. The inherent structural integrity of solid cast glass makes for a very easy to clean surface, with no grout like tile or grain like granite to absorb germs or contaminants.
Over the years our company has produced thousands of unique thick glass bathroom countertops, often incorporating ColorFuse glass for a seemingly infinite variety of colors, patterns, shapes, and textures. We view every new project as an opportunity to create something distinctive and exciting.
Hygiene & Cleaning
Glass is a non-porous material, making it the most hygienic material available for countertops. This is also why glass is stain proof. Fingerprints and watermarks are also nearly invisible when the glass includes textures and/or colors.
It is recommended to towel dry any wet areas to eliminate watermarks and streaking. The surface can be cleaned with a sponge (do not use abrasive side) or towel. Window cleaner and paper towels are preferred for optimum shine. Certain cleaners have been known to have chemicals that cause a haze and are not recommended to be used.
What About Edge Contours?
Because each piece of our custom thick glass is produced right here in our factory, we have complete control over the edge contours that will suit your particular application the best. This can include seamed edges, polished edges, and mitering edges, and in a number of unique looks and patterns, including bullnose, half bullnose, chipped polished, and chipped frost. See the examples on this page to get a better idea of each one of these finishes.
ColorFuse™ Color Options:
What About Recycled Glass?
It turns out that not all glass countertops are the same - in fact far from it!
If you do much research for terms like "glass kitchen countertops" (and believe us when we say we have researched the heck out of that term!), you will no doubt find many results for kitchen and bath countertops made out of recycled glass.
However, in most cases this means chunks of broken glass chips suspended in a composite base, giving the finished product a random, patternless look not unlike a tile mosaic. Similar products include recycled stone chipped composite countertops, which share many of the same drawbacks when compared to a clear, solid glass countertop surface.
GDS™ Solid Glass Counters

Recycled Composite Glass

Structural Consistency

Any Level of Transparency

Kiln Fired

100% Recyclable

Made From Natural Silica

Structurally Random

Opaque Composite Base

Molded

Non-Recyclable Base

Man Made Materials

Unlike broken glass countertops, our custom made solid glass countertops and bar tops are produced from solid kiln fired glass manufactured right here in our Carlsbad factory. We never outsource any work overseas!
Because we are in complete control of the glass manufacturing process from start to finish, we cannot "pass the buck" when it comes to the looks, tolerances, and build quality of the finished product. We take great pride in the works of art that we create, we have a wealth of experience to draw from, and we stand behind our products 100%.
So even though the search terms may be similar, the products most certainly are not. As you can see, our solid glass countertops are the clear winner in every way!
How DURABLE is glass?
Believe it or not, clear solid glass is much more durable than granites and synthetic countertops. It is a harder, denser material that scratches and chips less. Textures and colors in the glass make small scratches nearly invisible, if they should occur. There is also NO change in appearance or durability over time!
We sometimes get asked about solid black glass countertops and islands. This is something we do not recommend, because it is incredibly difficult to keep clean and small scratches show up quite readily. For this reason we recommend lighter colors or a completely translucent appearance, with or without some texture or pattern to prevent the inevitable patina (which any material will develop over time) from detracting from the overall look.

What About Tempered Glass?
If you are looking for a thinner, sleeker look, countertops with 3/4″ or less thickness can also be tempered to further harden the surface, creating a safer, stronger finished product. Thick glass does not require tempering because it gets plenty of strength just from its thickness alone.
But isn't glass FRAGILE?
It's a common misconception that a glass bar top or countertop will be fragile and easily broken. Back when glass was first used in windows and mirrors, it was inherently fragile due to the relatively crude processes available at the time. However, with modern advancements in manufacturing, the truth is that granite and glass have very similar properties, and that in most cases thick glass has far surpassed natural stone materials in durability.
To go further with this, in most cases a custom glass countertop or island is actually stronger than granite or stone, as it is a much more dense and structurally consistent material. The same goes for marble countertops and quartz countertops. Imagine a slab of granite, marble, or quartz stone at a quarter (¼") inch thick. It would break with significantly less force than ¼" glass, due to the pores, veins, and imperfections in the stone.
On the other hand, a glass bar top, glass tabletop, or glass countertop at 1″– 3″ thick is quite a substantial piece of material, and its structural consistency cannot be matched by stone.
In short, if you've been wondering where to buy glass countertops, give us a call today with your ideas and we will help make them a reality!